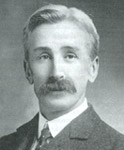 The Beginning
When Benjamin Henry Blackwell opened the doors to B. H. Blackwell's on New Years Day in 1879, bookselling was already in his blood. His father, Benjamin Harris Blackwell had been heavily involved in the Temperance Society, as had his father before him. The society promoted self-education and encouraged reading as well as religion, with separate rooms for non-alcoholic refreshment and silent reading. Although an unquestionably devout family, the Blackwells had originally become involved with the Temperance Society, not only because of their religion, but also because Benjamin's father was tee-total, a decision made in protest of the government making money from the excise duty on alcohol.
Benjamin Henry Blackwell, inherited not only his father's initials but also his passion for education and self-improvement. Upon finishing his formal education at the age of 13, Benjamin was apprenticed to local bookseller, Charles Richards, for a shilling a year.
Blackwell's The Bookshop Opens its Doors to Broad Street, Oxford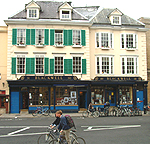 From the outset, 'Mr. Blackwell's little shop' had a special air about it. 'Those who came in from the noisy, cobbled street', chronicled in a later edition of the Oxford Magazine, 'found quiet and an invitation, not so much spoken as conveyed by the friendly spirit of the bookseller, to scrutinise and handle the books on the shelves without obligation to buy.'
The store was originally only twelve feet square but quickly grew to incorporate the upstairs, cellar and neighbouring shops. Benjamin Henry Blackwell came to be so well regarded in Oxford that he was elected the first-ever Liberal Councillor for Oxford North. Described as 'a terrible radical' by a Don at Corpus Christi, he was not one to take notice of the opinions of others.
As the business grew, so did the Blackwell family. Basil Blackwell, Benjamin Henry's son, became the first Blackwell to go to university; he was awarded a scholarship at Oxford University's Merton College. But nonetheless he was expected to join the family firm. That 'a man must serve the trade by which he lives' was his father's watchword.
Basil Blackwell joined his father in Broad Street in 1913, after a spell as an apprentice publisher in London. His first task was to expand his father's publishing ventures; the first Blackwell publication had come off the press in 1879. Many famous writers had cut their teeth at Blackwell's and in 1915 J. R. R. Tolkien's first poem, Goblin's Feet, was published. The publishing company was incorporated in 1921, and a specialist scientific section was added in 1939.
Blackwell pioneered a series of cheaper books, from a one-volume Shakespeare to '3/6 novels', to ensure everyone had access to literature. At the same time, Basil Blackwell wanted to preserve fine printing. Rescuing the Shakespeare's Head Press, he commissioned belles-lettres including a complete version of Chaucer's Canterbury Tales and well-known classics such as the Pilgrim's Progress and the works of the Brontes.
Books from Blackwell were soon lining the walls of not only Britain's academic institutions and fine homes, but also the library shelves of the new universities in the British Empire and America.
While the publishing side burgeoned so did bookselling. When Benjamin Henry died in 1924, Basil Blackwell took over from his father and for over sixty years he oversaw the growth of a bookselling empire.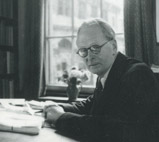 Blackwell Becomes an International Phenomenon
By the 1960s, Blackwell had built an international reputation for bookselling excellence with links to academic institutions and libraries around the globe. It has continued to expand its UK base and is now seen on high streets and in university campuses up and down the country.
In 1995, www.blackwell.co.uk became the first transactional online bookstore in the UK, giving people across the world access to over 150,000 titles.
In 1998, Blackwell opened its central London flagship store in the book-lovers Mecca,
Charing Cross Road
. Two flagship stores, Broad Street and Charing Cross Road, have both won Chain Bookseller of the Year at the Nibbies, the annual British Book Awards.
The company is still in the hands of the Blackwell family and 50 Broad Street continues to be one of the company's six flagship stores. Philip Blackwell, the great, great grandson of Benjamin Harris, son of Julian Blackwell, led the company for six years as Chairman and CEO until January 2006.
Still searching out rare books and catering for every taste, alongside their campus and high street stores, Blackwell has a number of specialist stores including several medical outlets and a Blackwell specialising in the oil industry in Aberdeen.
Today Blackwell UK is the leading academic bookseller in the UK and has over 60 outlets across England, Scotland and Wales. Its staff continue to be renowned for their expertise, depth of knowledge and love of books over 125 years after Mr. Blackwell's 'little shop' first opened its door.
Background information on the history of Blackwell came from Rita Ricketts the Blackwell Archivist.