Discover Blackwell's
The History and Heritage of an Oxford Family Bookshop
The first bookshop opened by a member of the Blackwell family was in Oxford but was actually in 1846.
We take the year of 1879 as our founding since it was on January 1st of that year that our bookshop on Broad Street, Oxford first opened its doors and we have been trading continuously from there ever since.
1879 was the year that Thomas Edison created the first lightbulb, Broad Street was cobbled and, no doubt, filled with the sound of hooves clipping along it.
Since then we have grown to become more than just one bookshop, with a chain of 30 bookshops serving not only individual customers but also a host of libraries, universities, businesses and government departments. We employ over 500 staff across the country.
The Oxford bookshop itself has grown; sideways, upwards and, most notably, underground.
The Norrington Room was opened over fifty years ago and for many years was proudly listed in the Guinness Book of Records as the single largest room in the world selling books.
The shop has garnered mentions in numerous books, employed booksellers who have gone on to be award-winning authors, featured in a variety of films, and been a haven for the bookish from all parts of the globe.
As part of the celebrations this year our booksellers (and a few authors) have selected an eclectic mix of 140 books to represent each year of Blackwell's existence.
Our blog expands upon the (sometimes unusual) reasons for our book choices.
The following timeline picks out just a few of the highlights of our storied history, we hope that you enjoy it.
1846
First Blackwell's Bookshop opens in Oxford
1854
Benjamin Harris Blackwell becomes first Librarian at the new Oxford City Library
1 January

1879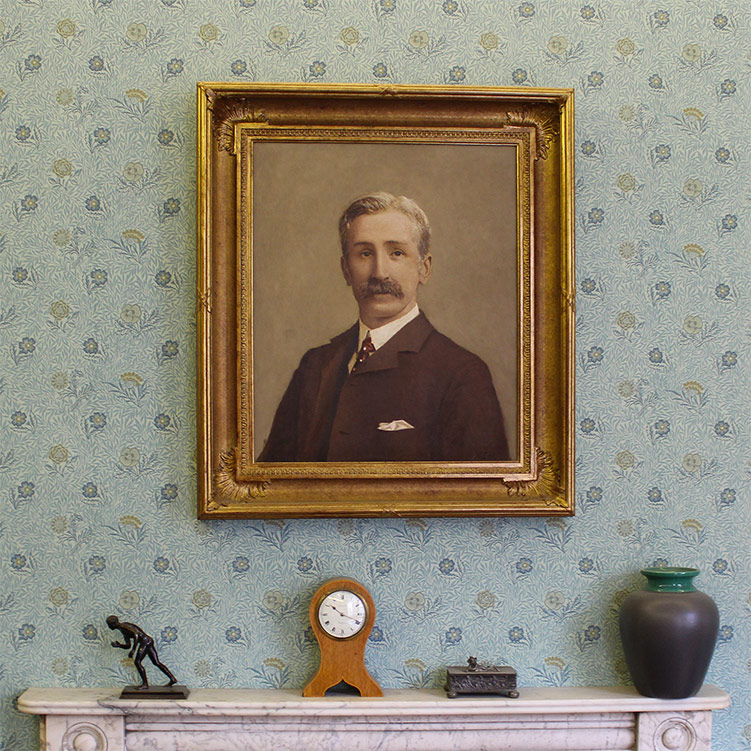 The Gaffer's Office, Blackwell's, Oxford in 2016.
On New Year's Day in 1879, Blackwell's was founded – Benjamin Henry Blackwell opened his bookshop at 50 Broad Street, in a room 12ft square.
This is a photo taken of the Benjamin Henry Blackwell portrait in the 'Gaffer's office' on the second floor of Blackwell's in Oxford.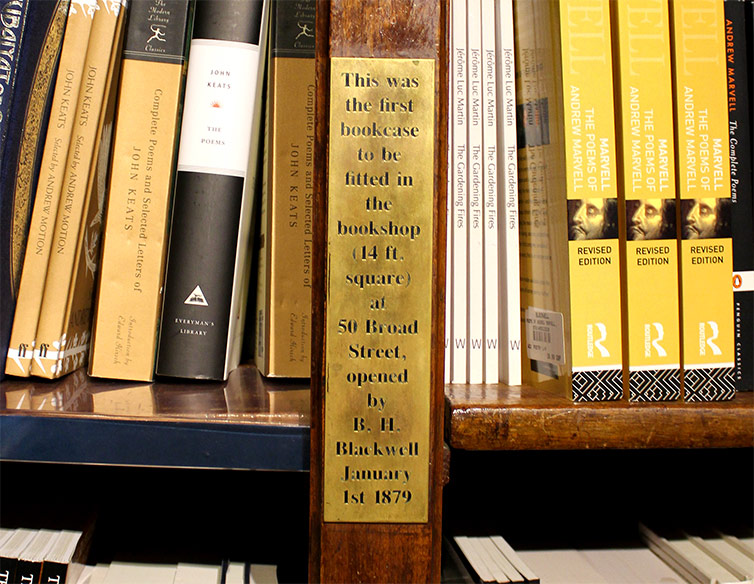 First bookcase plaque in Blackwell's, Oxford.
When you visit the Blackwell's shop in Oxford, you can still see the first bookcase fitted in the shop. It's on the first floor at the top of the stairs and has a small plaque on it.
1913
Basil Blackwell (Benjamin's son) joins the family business.
1914
Blackwell's donates books for troops serving in the First World War.
1915
Many famous writers had cut their teeth at Blackwell's and in 1915 J. R. R. Tolkien's first poem, Goblin's Feet, was published.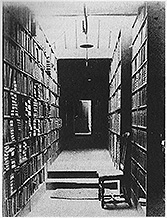 Interior of 'Blackwell's of the Broad' from the early 1900's. Credit: Blackwell's
1924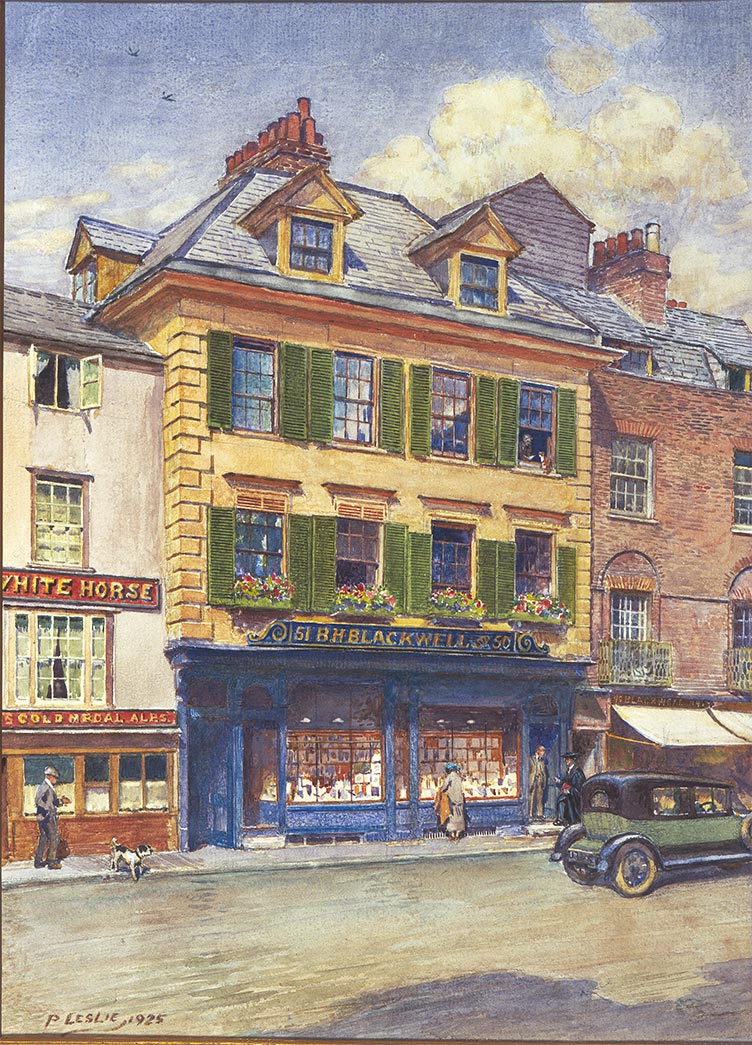 B. H. Blackwell in 1925. Credit: P Leslie
When Benjamin Henry Blackwell died in 1924, Basil took over the firm – and became affectionately knows as the "gaffer".
As you can see from the image above, by now Blackwell's had grown considerably and consisted of both 50 & 51 Broad Street.
1925
Basil Blackwell becomes President of the International Association of Antiquarian Booksellers.
1929
Blackwell's buys George's in Bristol, its first Bookshop outside Oxford.
1934
Basil Blackwell invites booksellers and publishers to tea in his garden after a conference. Allen Lane has the idea for Penguin Books under an apple tree on the lawn.
1938

A vintage Blackwell's bookmark showing the location of the Oxford shop.
48 & 49 Broad Street are re-built and merged with 50 & 51.
Shelf space is more than doubled. New shop shown on the above bookmark, distributed sometime after 1938.
1939
WWII Second World War begins; the deadliest conflict in human history.
1945
On his return from WWII, Richard Blackwell significantly expands the export business throughout the world.
1948
World's first working program, (written by Tom Kilburn) run on an electronic computer, the Manchester Baby.
1953
Coronation of Queen Elizabeth II.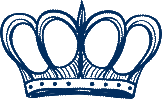 1956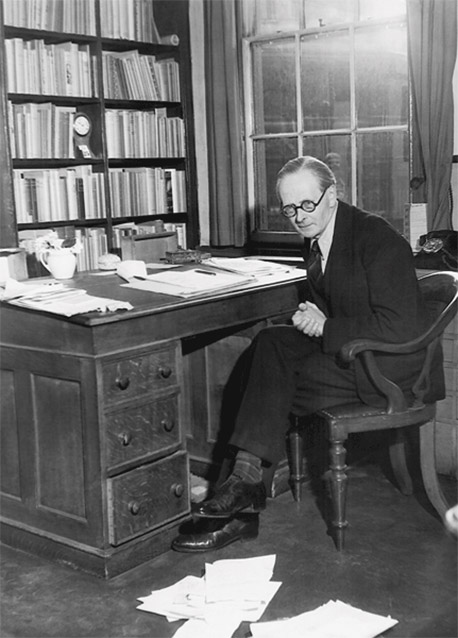 Basil Blackwell in his office, Blackwell's, Oxford. Credit: Blackwell's
Sir Basil Blackwell was knighted in 1956 by Queen Elizabeth II for his contributions to bookselling – the only bookseller ever to be so honoured.
16 June

1966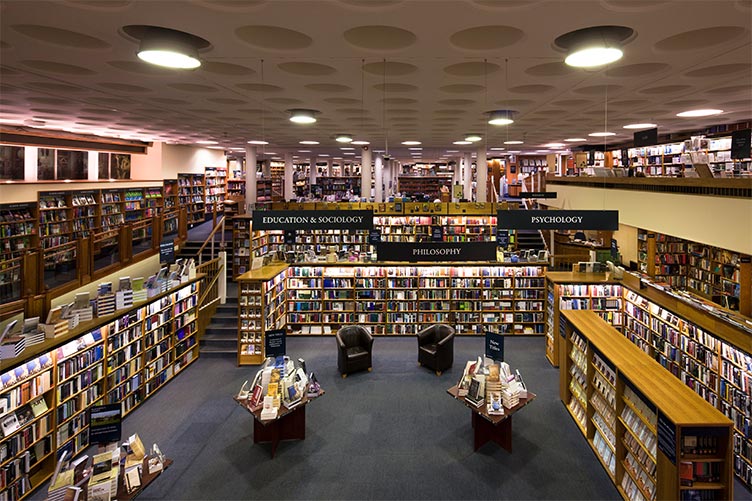 The Norrington room, Blackwell's Oxford. Credit: Blackwell's
Constructed under the supervision of Julian Blackwell in 1966, our vast basement is the academic heart of Blackwell's Bookshop.
Named after Sir Arthur Norrington, then President of Trinity College, it is quite simply one of the world's greatest rooms of books and is an essential place to see if you are visiting Oxford.
It was then the world's largest single display of books in one room, with 160,000 volumes on two-and-a-half miles of shelving.
1968
Blackwell's Art Bookshop opens at 53 Broad Street, Oxford.
1969
First Moon landing. Commander Neil Armstrong and lunar module pilot Buzz Aldrin landed the Apollo Lunar Module Eagle on 20th July 20 1969. Armstrong became the first person to step onto the lunar surface.
1970
Sir Basil Blackwell receives the Freedom of the City of Oxford.
1972

The Bawden Mural, Blackwell's Oxford. Credit: Eve Swanevelder/Isha Photography
Celebrated English artist Edward Bawden was commissioned to create a mural for the shop, which he completed in 1972.
His last major piece is freely available to view by any visitor to the shop.
The figures represented here include King Charles I and his wife the Queen Consort, Henrietta Maria. Eagle-eyed observers may even spot Sir Basil, 'The Gaffer'.
1979
100 years of Blackwell's celebrated.
1984
Sir Basil Blackwell died at 94 years old. In addition to his son, Julian, chairman of the Blackwell Group, Sir Basil was survived by two daughters, Penelope Jessel and Corinna Wiltshire.
1989
Sir Tim Berners-Lee invented the world wide web, with the goal of 'a common information space in which we communicate by sharing information'.
1991
After acquiring local bookseller Willshaws, Blackwell's open its first Manchester bookshop, at 149-153 Oxford Road.
1995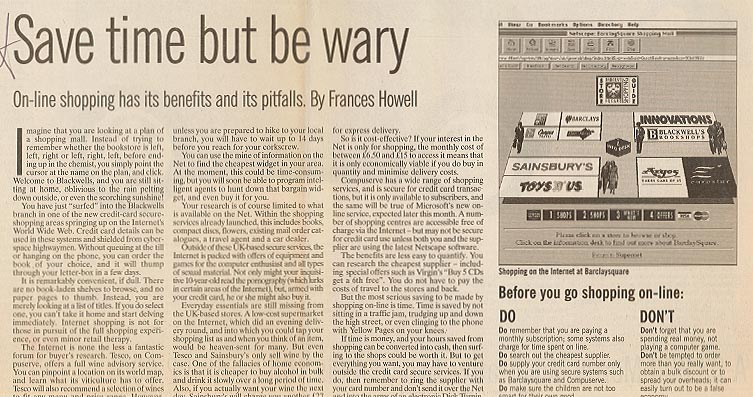 A scan of 'Money' article from The Independant - Saturday 5 August 1995.
In 1995, Blackwell's became one of the first retailers to go online.
We launched our website, as part of 'BarclaySquare' – an online shopping mall – where you could virtually visit Blackwell's and other large retailers.
This article stated that 'Credit card details can be used in these systems and shielded from cyber-space highwaymen.'
1997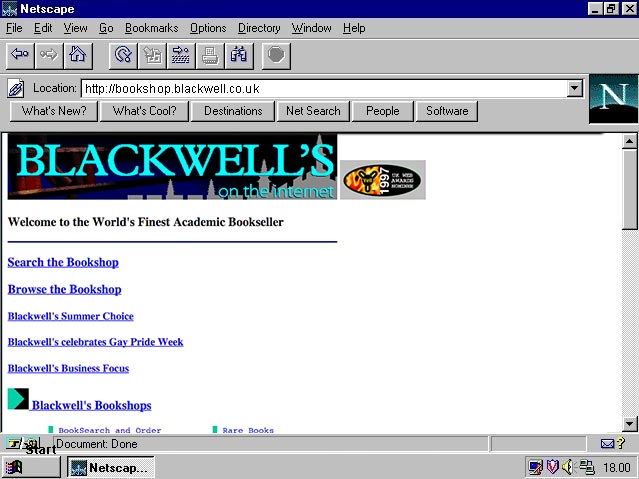 The website from July 1997, inside a Netscape Browser from the era. Credit: Internet Archive: Wayback machine
In 1995, blackwell.co.uk became the first transactional online bookstore in the UK, giving people across the world access to over 150,000 titles.
This is a screenshot of how the retail website looked in July 1997 (the earliest available time from the Wayback Machine).
1997
Publication of the first Harry Potter Book; Harry Potter and the Philosopher's Stone by J. K. Rowling. Also, Blackwell's Oxford won the inaugural Booksellers Association Academic Bookshop of the Year.
1999
Blackwell's acquires Heffers in Cambridge.
2002
Blackwell's acquires Thins in Edinburgh.
2017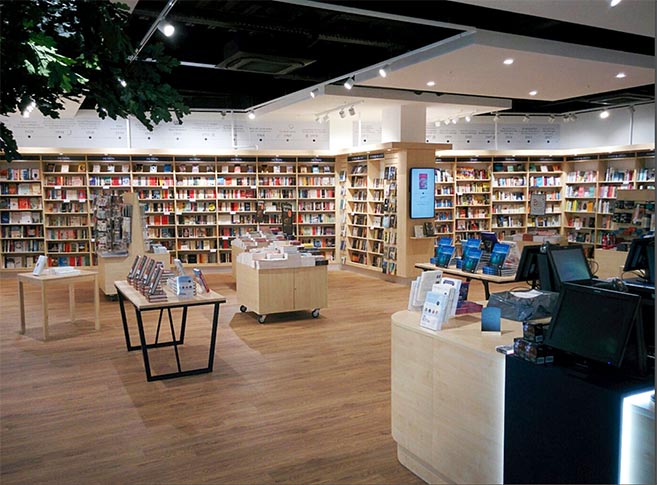 Staff photo
Blackwell's new Oxford Westgate shop opens.
2018
Blackwell's wins 'Book Retailer of the Year' for the 3rd time since 2007.
2019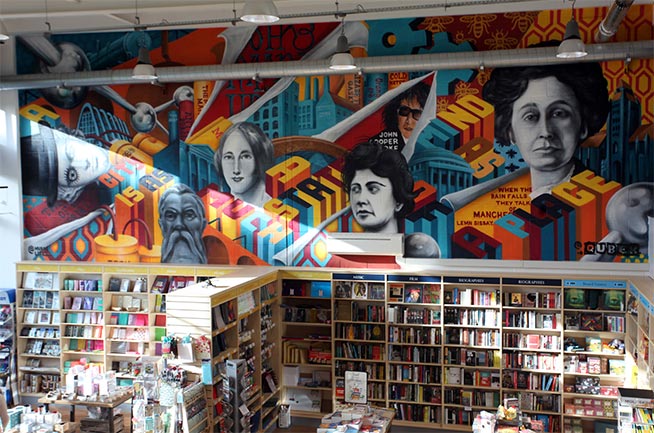 Staff photo
Blackwell's open its new shop at University Green, Manchester.